Click here for a printable copy
Dear Parent/Carer,
Happy New Year! Welcome back. This term is a long one, but should be full of opportunities for the children to develop and consolidate skills. We start the term with a focus on dance, welcoming Abi from AB dance school to run us through a dance routine ready for The Big Dance later in term 4. Details and how to buy tickets will follow shortly.
This term sees us focus on Scotland, looking at the people, places and geographical features of the country. We look at events that have transformed Scotland, along with people that have stood out in time. We will be having a special Scottish day towards the end of term 3, where the children will have the opportunity to dress up as Scots for the day, enjoy a Scottish feast and make some Scottish delicacies. Haggis tasting is optional! Please start to think about what they could wear, look out for kilts in charity shops and tartan scarves/trousers/socks etc.
As part of our studies, we will be looking at the impact of the Vikings on Scotland and how their traditions still live on today. We aim to build a large Viking boat in the atrium as part of these studies out of junk materials and papier mache. If you are a newspaper reader, please keep and send into school when no longer wanted. We also need large cardboard, so if you got a new TV or something in a large cardboard box please can we have the flattened box. Thank you.
In English, we continue to focus on punctuation, looking for opportunities for writing and extending writing. Our class book is called "The Journey". Spelling continues as a whole class focus each week as well as handwriting.
In maths we focus on Bidmas, fractions and statistics. We continue to work on 2D and 3D shapes and their properties, as well as continuing our focus on learning our times tables. Times table knowledge is essential.
Mr Jamieson Agate. Class-teacher.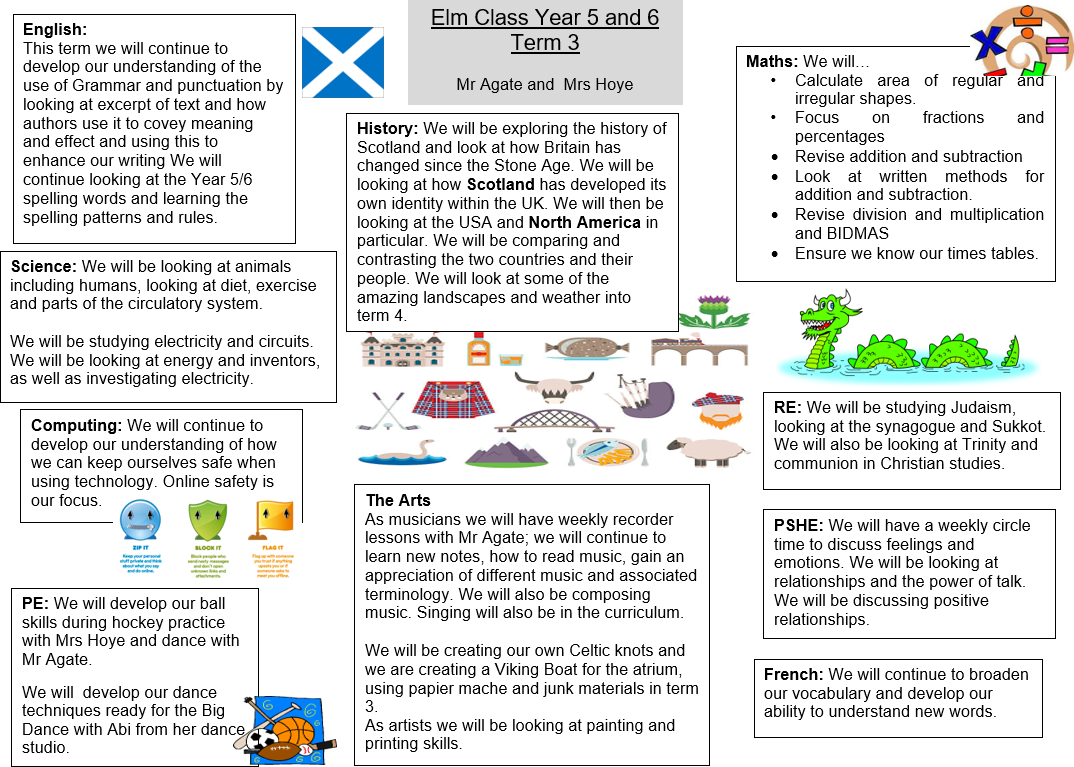 Click here for a printable copy
Dear Parents/ Carers,
Welcome back and welcome to Elm if your child is in Year 5. I hope you all had a lovely summer and have now settled back into the routine of a school week.
This term we have P.E on a Wednesday and Friday. Please ensure the children have the appropriate P.E kit following the school policy, and all items are named. Their P.E kits stay at school in their lockers. The children will need outdoor trainers as well as plimsolls for the hall.
Our class theme is Castles, with an emphasis on invasion and settlement. We aim to visit some of the local castles and find out more about why Sussex has so many castles. There is sure to be a visit. More details to follow. If you have any books or information on castles we would love to see them.
We are settling into our new classroom and area with lots of changes. In the cloakroom, outside of the class I have put up a parent communication board with copies of letters, timetables and other information to assist you. I hope it helps. The children can now eat their sandwiches in their own area and have their own toilet and lockers as well. We are posh! If you have any large unwanted outdoor games that you think the children would enjoy outside, we would love to hear from you.
The Parent Teacher Consultations will soon be upon us, but in the meantime, if you have any issues please do not hesitate to see me as soon as possible.
Mr J Agate. Classteacher